NEW YORK—Coinciding with the Frieze Art Fair, the Pulse Art Fair is back in New York this weekend. Some of the most interesting art at Pulse this year is work composed of several parts or presented as a series, such as "A Modern Hair Study," a photography project by Tara Bogart and the "Conceal Series," (above) a set of 24 watercolor portraits by Dawn Black.
Pulse New York is open from May 9 to May 12, 2013. Today is the last day.
All photos © Arts Observer

Detail from "Conceal Series" 2013 (24 panels—watercolor, ink and gouache) by Dawn Black at Cynthia-Reeves of New York and New Hampshire.. "Who are we really?" Black asks. "There are roles we choose to play in our lives and others that are imposed upon us. Our true identities are often concealed behind a costume of uniform."

"Are You Sitting Comfortably," 2012 (handwoven needlepoint on found object (chair) and carved wood) by Kim Rugg at Davidson Contemporary of New York.

Andy Warhol, Jean-Michel Basquiat and Keith Haring in New York, circa 1980s (chromogenic prints, printed 2013) by Tseng Kwong Chi at Eric Firestone Gallery of East Hampton, NY.

Detail of work by Anmnysa Ng at Galerie Michael Sturm of Stuttgart, Germany.

Detail of "Bibliophylum," (books, wax, pins) by Jessica Drenk at Adah Rose Gallery of Kensington, Md.

"Stampede," 2012 (flash and acrylic on paper) by Marilyn Holsing at Gallery Joe of Philadelphia.


"Shopping Bag," 2011 (sand, cable, fabric, resin water, Matte Super Heavy Gel Medium and Plexiglass box) by Liset Castillo at Habana of Havana and Toronto.

"36 Arbeiten komplett," 2002 (lambda digital print) by Altor Ortiz at Galerie Stefan Ropke of Cologne, Germany.

From left, "Andee," 2012 and "Marta," 2012, from of "A Modern Hair Study," by Tara Bogart at Hous Projects of New York.

"A Modern Hair Study," series (archival pigment print) by Tara Bogart at Hous Projects.

"Toff (leather jacket)," "Hustlers (vest)" and "Scorpio Rising (leather jacket)," (all three 2011, mixed media on wood) by Skylar Fein at C24 Gallery of New York.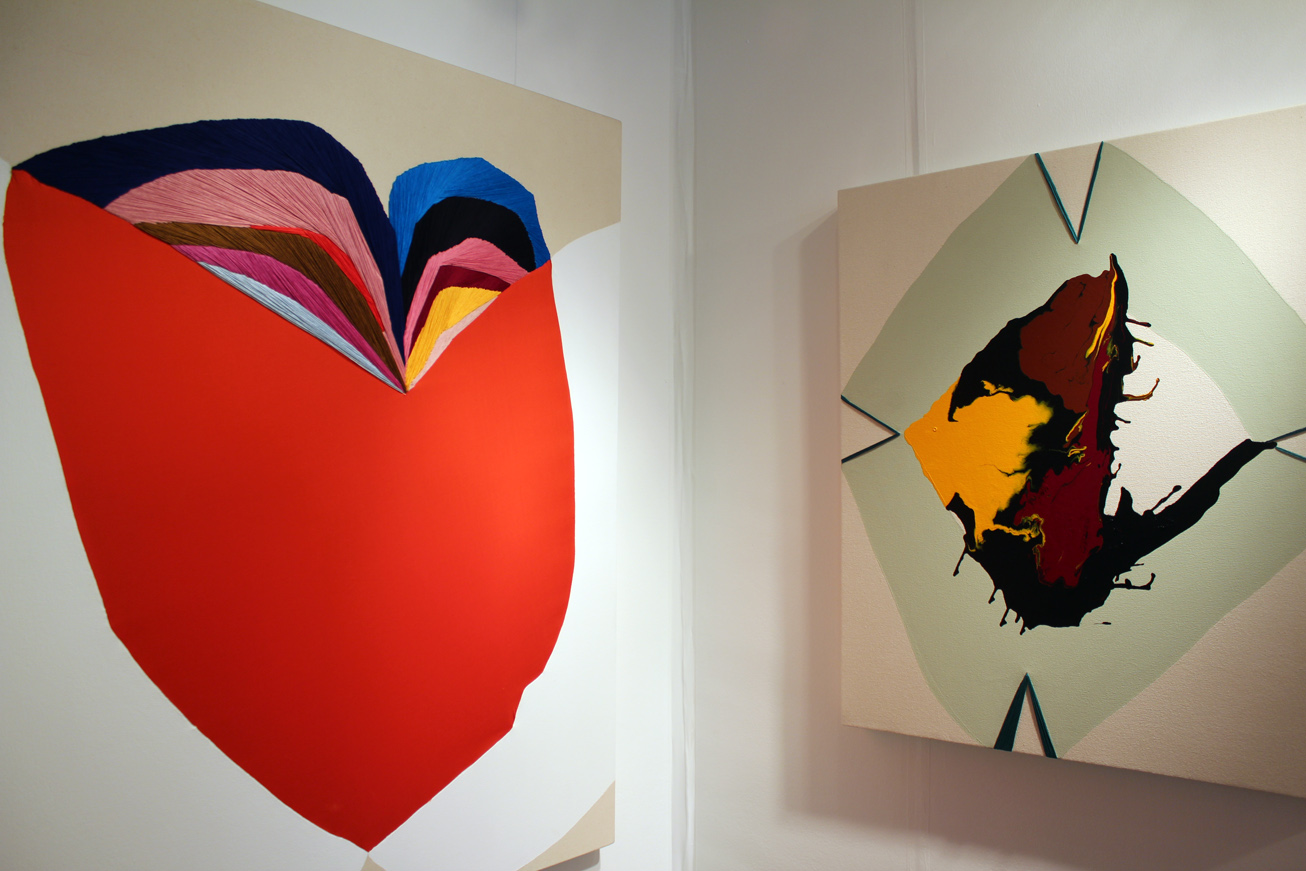 From left, "Dwells Among Us," 2011 (fabric, gesso, embroidery, canvas) and "Diamond Pressure," 2013 (gouache, acrylic, embroidery, canvas) both by Amanda Valdez at Denny Gallery of New York.